Message from Chief Ireland
On behalf of the dedicated members who serve with me at the Kennebecasis Valley Fire Department, it is my pleasure to welcome you to our official website.  This website has been created to provide easily accessible information to the public about the services we provide within the community.  We work continuously to meet the evolving needs of our community and this website combined with our Facebook and Twitter accounts make our life safety information easily accessible where and when you need it.
This site contains information on current programs, recruitment, operations, training and public safety.  We regularly update our social media accounts so I encourage you to explore the abundance of information available and learn more about fire and life safety.
Your feedback is encouraged so that we can respond to your needs. Feel free to contact us via the contact us form. We hope that you will become familiar with who we are and what we do.  Our goal is to provide outstanding customer service to the citizens and visitors of the Kennebecasis Valley.
Sincerely,
Bill Ireland, CFO
Command Staff
The department's Command Staff is a team of four Chief Officers that work together to fulfill the departments mandates and meet the needs of our growing communities.  Their dynamic experience within the fire service provides the leadership required for the Kennebecasis Valley Fire Department to remain a first-class fire service.
Bill Ireland
Fire Chief / CEO, CFO
The Fire Chief is responsible for the entire fire department organization and is also the Chief Executive Officer for the Joint Board of Fire Commissioners.
Dan McCoy
Deputy Chief, CFO
The Deputy Fire Chief is responsible for the day-to-day operation of the fire department and represents the department within the municipal EMO.
Kevin Clynick
Division Chief
Employment Development and Training.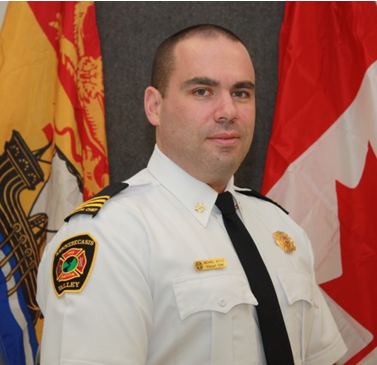 Mike Boyle
Division Chief
Public Safety and Risk Management.
Vision 
The Kennebecasis Valley Fire Department is recognized as a first-class fire service that protects people and property contributing to the prosperity of the communities in the coverage area.
Mission
The Kennebecasis Valley Fire Department protects people and property by ensuring public safety and efficient fire protection and prevention.
Strategic Goal
The Kennebecasis Valley Fire Department will ensure that facilities, services and personnel provide safe, superior and cost-effective fire services and emergency response tailored to the needs of the coverage area.