Fire Prevention
The Kennebecasis Valley Fire Department maintains an active approach to fire prevention within the community with a focus on life safety and education.  Through the use of social media, elementary school life safety education, the "Firefighter for a Day" program, fire department open house, and station tours we strive to deliver life safety education in many different ways.  We are proud to also be introducing a new initiative to focus on safety in the home through our new "HomeSafe" program.  Book yours today!

HomeSafe Program
Have you ever wondered about fire safety in the home, or how or where to install smoke alarms?  The HomeSafe program comprises of  voluntary home inspections and door to door smoke alarm campaigns throughout the Valley. Part of our mission is to protect people and property by delivering efficient fire prevention programs.  
An effective home inspection program is a proven method of fire prevention that has had success with reducing loss of life, injury, and damage from fire.1 A similar program in British Columbia has reduced fires in high risk areas by two-thirds and in the United Kingdom, "home safety visits are thought to be a major reason and possibly the largest reason for the sharp reduction in fire deaths in the past decade…"2
Because residential homes are not subjected to the same requirements for regular fire safety inspections as most other buildings, it can be difficult to get fire prevention information to the people in our communities who are at greatest risk.  According to the National Fire Protection Association, 85% of fire deaths and 76% of fire injuries occur in the home.
By conducting voluntary home inspections, where we are invited to your home, or door to door campaigns that let us get fire safety information to those that need it most, it helps us to address this concern.
The HomeSafe program utilizes on duty crews and does not require any additional resources in order to deliver the program.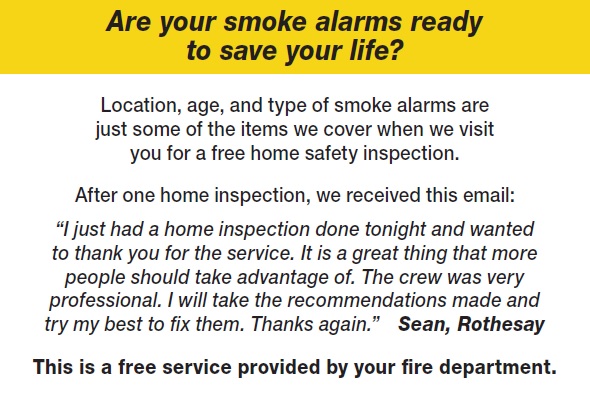 After you've contacted us for a home inspection, we will arrange a time for us to visit.  You can expect a fire engine to visit your house and the crew will follow a check list as they discuss fire hazards in and around your home and what changes you can make to minimize the risk.
If you are interested in booking a home safety inspection, please contact us here or call 848-6601.  In order for us to complete a home inspection, you must be a resident of Rothesay or Quispamsis and own your home.  Unfortunately we will not be inspecting rental properties or businesses for this program.

1National Fire Protection Agency NFPA 1452 GUIDE FOR TRAINING FIRE SERVICE PERSONNEL TO CONDUCT COMMUNITY RISK REDUCTION
2 Global Concepts in Residential Fire Safety Part 1 – Tridata Division (2007)
 Firefighter for a Day Program
Each year we hold the "Firefighter for a Day" contest for grade 3 students where they must complete a home escape plan for their family. All grade three students within   our community have the opportunity to participate in the "Firefighter for a Day" contest. In the beginning of each school year all grade three English and French classes   are visited and are provided a home escape plan grid as well as directions on how to complete it. They are encouraged to bring it home to work on with their families and then return it to the school office upon completion. The contest winner's home escape plan must indicate two ways out of every room, where their smoke alarms are located and also where their family meeting place is located.
The winner of the "Firefighter for a Day" contest is picked up at school by a fire truck and becomes an honorary firefighter for the day at KVFD. The student is provided firefighter personal protective equipment and participates in various activities with the on duty firefighters such as a station tour, equipment demonstrations, a water target shoot, a ride in the fire engine, and lunch with the crew.
The student is also presented a certificate declaring them an honorary firefighter and driven home by a fire truck at the end of the day.
Remember, fire can spread rapidly through your home, leaving you as little as one or two minutes to escape safely once the alarm sounds. Pull together everyone in your household and make a plan. Walk through your home and inspect all possible exits and escape routes. Households with children should consider drawing a floor plan of your home, marking two ways out of each room, including windows and doors. Also, mark the location of each smoke alarm.
This is a great way to get children involved in fire safety in a fun way by having them do up an escape plan or have everyone sit and do it as a family. Remember, once you are out, stay out! No item is worth risking your life for.
If you ever have questions or concerns about fire safety, message us here or give us a call.
 Loblaw Companies Ltd recalls Everyday Essentials Space Heater
Product description
This notice involves Everyday EssentialsTM brand Space Heater with fan. Affected heaters are identified by model number FH03, UPC 0 58703 01922 5 and ETL certification file number 3125218, which is printed on the label found on the bottom of the heater. The product has two heat settings (750/1500 watts) and was only sold in black.
Hazard identified
The space heater may overheat causing smouldering or flaming, posing a fire hazard.
Health Canada has not received any reports of consumer incidents or injuries related to the use of these heaters. Health Canada has previously published a recall of the same model space heater under a different brand name.
Loblaw Companies Ltd. has received two reports of the Everyday EssentialsTM Space Heater overheating. No injuries have been reported.
---
Kidde Recalls Plastic Valve Disposable Fire Extinguishers Due to Potential Failure to Fully Discharge
This recall involves Kidde and Garrison branded black plastic Zytel® Nylon valve disposable fire extinguishers manufactured between July 23, 2013 and Oct. 15, 2014.
Product description
The affected fire extinguishers are white or red in color and are either ABC or BC-rated.  The Kidde or Garrison logo and serial number are located on the nameplate.  The date code is an ink jet 10-digit number stamped on the side of the cylinder near the bottom.  Digits 5-9 of this number convey the day and year of manufacture.
Affected units will have the following five digits in a date code:
2013: XXXX20413X through XXXX36513X,
2014: XXXX00114X through XXXX28814X.
---
Champion Power Equipment
Champion Power Equipment has issued a voluntary product recall on the following products sold at Costco USA:
Model # 41532 – 9000 Watt / 7000 Watt Wireless Remote Electric Start Portable Generator (Retail $699)
Model # 41332 – 8250 Watt / 6500 Watt Wireless Remote Electric Start Portable Generator (Retail $699)
This recall has been issued due to a potential fire hazard caused by fuel leakage.
---
Line Voltage Thermostats by UPM and Noma
Product description
This recall involves line voltage thermostats sold under the following brand names and model numbers:
UPM models: HTM611A and HTM621
Noma models: HTM611A (52-2544-0) and HTM621 (52-2545-8)
Only thermostats that were manufactured in 2008 and have serial number starting with "08" are included in this recall.
---
Venmar Inc
The Office of the Fire Marshal has issued a bulletin in relation to the expanded recall of Venmar Ventilation Inc. air exchangers.
Please take a moment to review this update if you own one of these systems.
http://healthycanadians.gc.ca/recall-alert-rappel-avis/hc-sc/2014/42133r-eng.php
---
Kidde Smoke Detectors
Do you own a Kidde smoke or combination smoke/CO detector? The Office of the Fire Marshal has issued a bulletin on the following recall for these detectors listed. If you have any questions, please contact us at 848-6601.