In addition to fighting fires, our Department provides auto extrication for car accidents, water rescue, ice rescue, off-road rescue, and emergency medical services as first responders.
Emergency Operations
The Kennebecasis Valley Fire Department provides a wide range of emergency and general public assistance services to the Valley area. In addition to fighting fires, the Department provides auto extrication for car accidents, water rescue, ice rescue, off-road rescue, and emergency medical services as first responders.
On a non-emergency basis, the Department also assists the public with power lines down, flooded basements, and various service calls including electrical and other problems in the home.  Our firefighters continuously train in multiple disciplines in an effort to provide our residents and visitors with a professional level of service.
Career members work a rotating work schedule of 2 days, 2 nights, and 4 days off.  Each member is a part of one of four platoons and is assigned to a specific firefighting position at one of the two stations.
Our Locations
We operate from 2 fire stations with 46 paid staff and 12 volunteer members, t
he department responds to an average of 1,000 incidents annually.
Station 1
The department headquarters is located at 7 Campbell Drive in Rothesay and houses Quint 1, Engine 1, Tank 1, as well as all technical rescue equipment.
Station 2
Station 2 is located at 12 Civic Drive in Quispamsis and houses Engine 2 and Tank 2.
Kennebecasis Firefighters Union
          The career members of the Kennebecasis Valley Fire Department are members of IAFF Local 3591, Kennebecasis Firefighters Union, that includes a governing Executive Board of 5 elected members and 2 appointed assistants. They are under the jurisdiction of the 15th District of the IAFF, and also affiliated with the Atlantic Provinces Professional Fire Fighters Association (APPFFA) which proudly represents the Canadian provinces of New Brunswick, Nova Scotia, and Newfoundland. Their charity work includes fundraising for Muscular Dystrophy Canada and the Atlantic Burn Camp for kids, as well as many local benevolent needs as they arise. More information can be found at http://www.iaff3591.org/.
Fire Ground Incident Technician (FIT)
The Kennebecasis Valley Fire Department is a composite, progressive, professional organization.  This means we have career firefighters and volunteer Fire Ground Incident Technician's under the command of eight officers on four platoons who are overseen by four chief officers.  We take great pride in our ability to work together constructively to successfully mitigate emergency situations in our community everyday.
Currently the Kennebecasis Valley Fire Department arrives at a fire with eight firefighters and one command officer, which allows for the completion of usually only one priority, typically attacking and extinguishing the fire.  Using full time staff for accountability, staging, scribing, or assisting the Safety Officer only diminishes the amount of firefighters available for operations.  This is where the role of the FIT will come in; taking these tasks off the plate of active firefighters allowing them to focus on their main duties.
The process of becoming a volunteer
Once you have decided to join KVFD as a volunteer member the first step is to fill out an application and drop it off at our station. You will need to provide a clean criminal record check including a vulnerable sector search, have a clean driver's abstract and be of age of majority. The next phase includes an informal interview with representatives of the department and volunteer association and if you feel you're ready, and we agree, you become a probationary member and begin your volunteer career with KVFD!
What to expect as a volunteer
As a volunteer member with the Kennebecasis Valley Fire Department, you will take part in a training schedule that is on most Tuesday evenings from 7pm until usually 9pm. You will learn what to expect on a fire-ground and what your role will be.  Training covers various topics which are dictated by performance standards as well as rolls and responsibilities on scene.  The volunteers with this department have a long history of giving back to the community and you should be prepared to volunteer your time not just at fires, but for fund raising and charity work as well.
The Fire Ground Incident Technician position is a non-paid volunteer position, with an honorarium paid quarterly based on attendance requirements.
Under the direction of a Chief Officer a Fire Ground Incident Technician:
Responds whenever `Fire 3` is assigned to an emergency incident including fire calls and ice rescue calls.
Initiates accountability system and reports to arriving on duty Chief Officer. Maintains accountability system throughout incident tracking firefighter movement and PAR reports.
Assists with staging apparatus, in particular as a water supply officer at fire events.
Performs public education and public relations activities under the direction of the Platoon Chief.
Follows firefighter safety practices and may be assigned to be a designate of the safety officer.
In the role of Chief`s aide, assists with monitoring radio communications, and logging command decisions and significant events.
Deploys the department's rehabilitation unit including operating a portable generator, setting up lighting, preparing and distributing rehabilitation supplies.
Operates department service vehicles and transport equipment or personnel.
Ensures personnel accountability system is used, rehabilitation is established, collapse zones are communicated.
Assists police in the direction of vehicular and pedestrian traffic.
Performs a fire watch to maintain security and safety of a building including checking for secondary ignitions, prohibiting unauthorized personnel from entry, and preserving evidence of crime using a portable radio, and barrier tape so that the integrity of the fire scene is maintained.
Performance Standards:
Comply with the New Brunswick Occupational Health and Safety Act as a "worker" defined under the Act.
Adhere to signed Memorandum of Understanding.
Hold a valid Class 5 drivers licence.
Demonstrated ability to identify the component parts of an SCBA and change a cylinder following proper method and safety practices.
Demonstrated ability to implement and actively manage the accountability system for the Department.
Demonstrated understanding of basic ICS principles, including PAR reports and benchmark terminology.
Demonstrated ability to monitor communications and effectively manage information for the IC.
The Fire Ground Incident Technician will be expected to:
Be competent in the use of rehabilitation trailer and equipment.
Complete a First Aid (or better) qualification and CPR.
Be competent in managing and directing traffic.
Demonstrate an understanding of hazards related to downed power lines.
Demonstrate an understanding of basic fire behaviour and firefighting tactics.
Fire Department History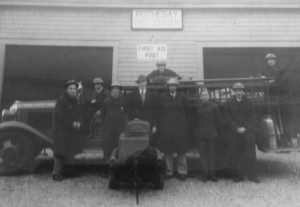 This department was formed in 1924 as the Village of Rothesay Fire Department. It was comprised of all volunteers and their first apparatus was a 1924 Ford Model "T" chemical unit. Over the years the department grew in size and changed locations several times eventually being housed at the well known station at Rothesay corner. In 1966, when several of the surrounding villages were incorporated the department began official fire protection to the six municipalities in the Kennebecasis Valley. In 1967 the first two career fire fighters were hired, Chief Geoff Sayre and Deputy Chief Earl Carelton.
In 1982 the Quispamsis fire Station was officially opened, giving us a faster response time to the growing population
in that area. In 1989 the department was regionalized and became jointly owned by all six municipalities. Then, in 1998 the provincial government amalgamated the Kennebecasis Valley into two large towns, Quispamsis and Rothesay. This amalgamation included the former six municipalities as well as a large portion of the parish of Rothesay. Along with portions of three local service districts the total coverage area is in excess of 120 square kilometers.
With these changes and the increasing size of the force and equipment it was apparent a new fire station was necessary to house the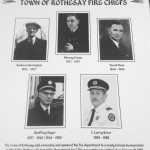 organization. On April 22, 2001 the new fire station on Campbell Drive in Rothesay was officially opened. The change of name from Rothesay Regional to Kennebecasis Valley came about in 2006, the result of a new regional agreement signed between the two towns.
As the community grew, so did the need for the fire department to grow with it. Starting in 2005, the department began the long process of building up it's staffing and apparatus to match the needs of the community. In 2009, a new truck was added, our current Engine 2, a commercial cab Sutphen engine to replace some of our aging fleet.
In 2010, the department added it's first ladder truck, a Sutphen aerial, our Quint 1, which helps us keep pace with the ever growing number and size of commercial and apartment buildings in the area.  Adding another custom cab, Engine 1, and a Fort Garry 2500 gallon tanker, has brought the department to where it needs to be today.
Today each community is served by a station staffed by a company officer and three firefighters, as well as a platoon chief on duty 24/7.