In addition to fighting fires, our Department provides auto extrication for car accidents, water rescue, ice rescue, off-road rescue, and emergency medical services as first responders.
Emergency Operations
The Kennebecasis Valley Fire Department provides a wide range of emergency and general public assistance services to the Valley area. In addition to fighting fires, the Department provides auto extrication for car accidents, water rescue, ice rescue, off-road rescue, and emergency medical services as first responders.
On a non-emergency basis, the Department also assists the public with power lines down, flooded basements, and various service calls including electrical and other problems in the home.  Our firefighters continuously train in multiple disciplines in an effort to provide our residents and visitors with a professional level of service.
Career members work a rotating work schedule of 2 days, 2 nights, and 4 days off.  Each member is a part of one of four platoons and is assigned to a specific firefighting position at one of the two stations.
Our Locations
We operate from 2 fire stations with 46  staff and
 respond to an average of 1,000 incidents annually.
Station 1
The department headquarters is located at 7 Campbell Drive in Rothesay and houses Quint 1, Engine 1, Tank 1, as well as all technical rescue equipment.
Station 2
Station 2 is located at 12 Civic Drive in Quispamsis and houses Engine 2 and Tank 2.
Kennebecasis Firefighters Union
          The career members of the Kennebecasis Valley Fire Department are members of IAFF Local 3591, Kennebecasis Firefighters Union, that includes a governing Executive Board of 5 elected members and 2 appointed assistants. They are under the jurisdiction of the 15th District of the IAFF, and also affiliated with the Atlantic Provinces Professional Fire Fighters Association (APPFFA) which proudly represents the Canadian provinces of New Brunswick, Nova Scotia, and Newfoundland. Their charity work includes fundraising for Muscular Dystrophy Canada and the Atlantic Burn Camp for kids, as well as many local benevolent needs as they arise. More information can be found at http://www.iaff3591.org/.
Fire Department History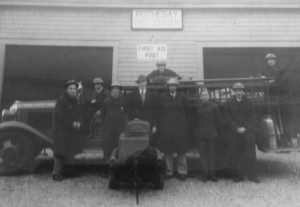 This department was formed in 1924 as the Village of Rothesay Fire Department. It was comprised of all volunteers and their first apparatus was a 1924 Ford Model "T" chemical unit. Over the years the department grew in size and changed locations several times eventually being housed at the well known station at Rothesay corner. In 1966, when several of the surrounding villages were incorporated the department began official fire protection to the six municipalities in the Kennebecasis Valley. In 1967 the first two career fire fighters were hired, Chief Geoff Sayre and Deputy Chief Earl Carelton.
In 1982 the Quispamsis fire Station was officially opened, giving us a faster response time to the growing population
in that area. In 1989 the department was regionalized and became jointly owned by all six municipalities. Then, in 1998 the provincial government amalgamated the Kennebecasis Valley into two large towns, Quispamsis and Rothesay. This amalgamation included the former six municipalities as well as a large portion of the parish of Rothesay. Along with portions of three local service districts the total coverage area is in excess of 120 square kilometers.
With these changes and the increasing size of the force and equipment it was apparent a new fire station was necessary to house the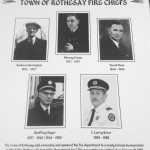 organization. On April 22, 2001 the new fire station on Campbell Drive in Rothesay was officially opened. The change of name from Rothesay Regional to Kennebecasis Valley came about in 2006, the result of a new regional agreement signed between the two towns.
As the community grew, so did the need for the fire department to grow with it. Starting in 2005, the department began the long process of building up it's staffing and apparatus to match the needs of the community. In 2009, a new truck was added, our current Engine 2, a commercial cab Sutphen engine to replace some of our aging fleet.
In 2010, the department added it's first ladder truck, a Sutphen aerial, our Quint 1, which helps us keep pace with the ever growing number and size of commercial and apartment buildings in the area.  Adding another custom cab, Engine 1, and a Fort Garry 2500 gallon tanker, has brought the department to where it needs to be today.
Today each community is served by a station staffed by a company officer and three firefighters, as well as a platoon chief on duty 24/7.